CONSTRUCTION LAB
FOR A COMPLETE LIST OF UPDATED COURSE, PLEASE VIEW THEIR ONLINE COURSE SCHEDULE: https://constructionlab.ca
---
The Construciton Association of Thunder Bay is proud to offer the following Training Courses from ConstructionLab. Please see the SPRING/SUMMER/FALL 2023 Training Schedule below. Members and Non-members of the Association can attend. All classes are Instructor Led LIVE Online Virtual sessions. To Register, please contact the Construction Assocation of Thunder Bay (CATB) at least 4 Days PRIOR to the Scheduled Training Date. Invoicing and Certification comes from CATB. Many courses are eligible for Gold Seal points.
About Course Delivery: The ConstructionLab ZOOM ROOM in London is equipped with 2 - 60 inch monitors, insulated sound proofing and a studio quality microphone. Using a 5G connection, they record a 99.99% uptime. On an additional note, one of the secrets to attendee engagement is the facilitator stands, and does not sit. This approach allows for movement and facilitator energy emulating a classroom environment. Attendees have commented numerous times, this makes the difference between us and other providers.
---
Click flyer below for PDF version.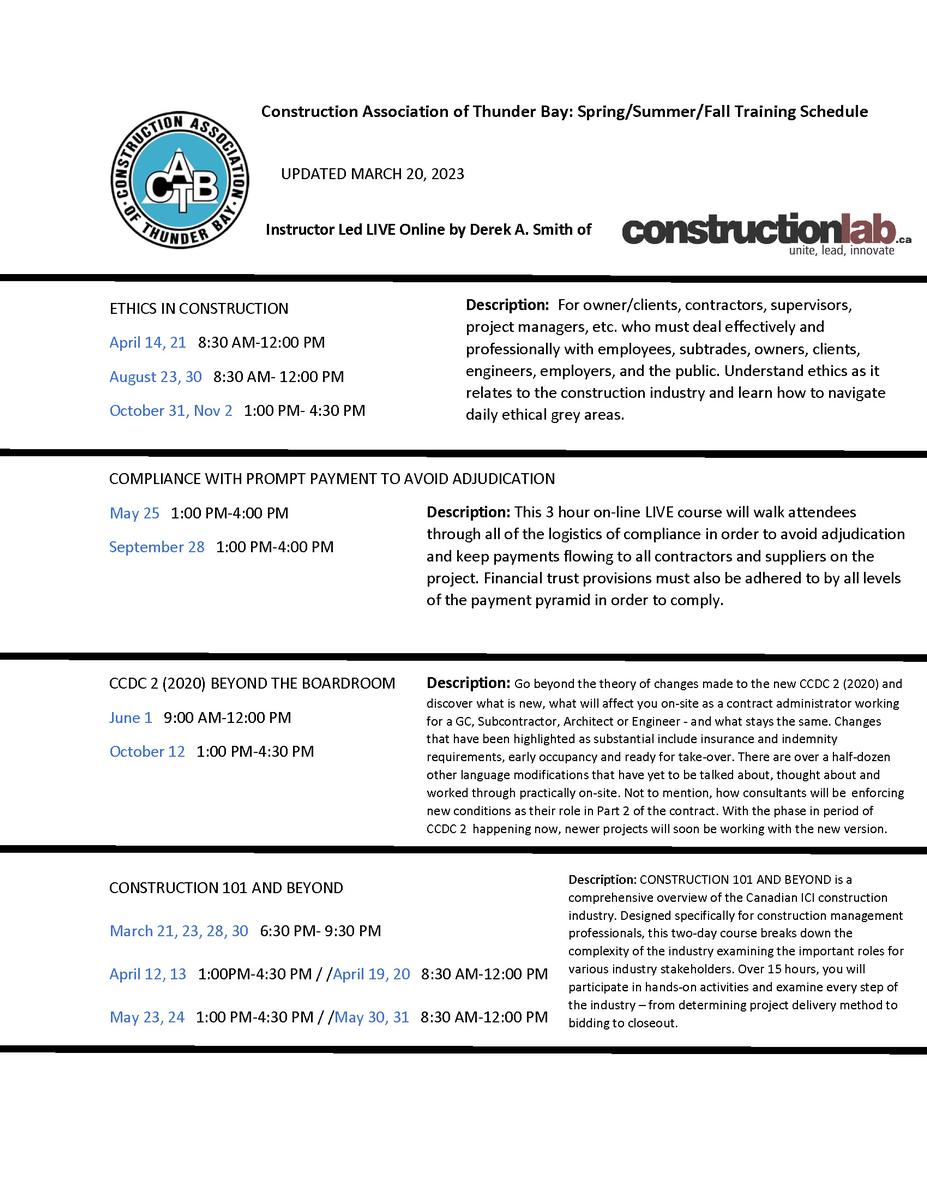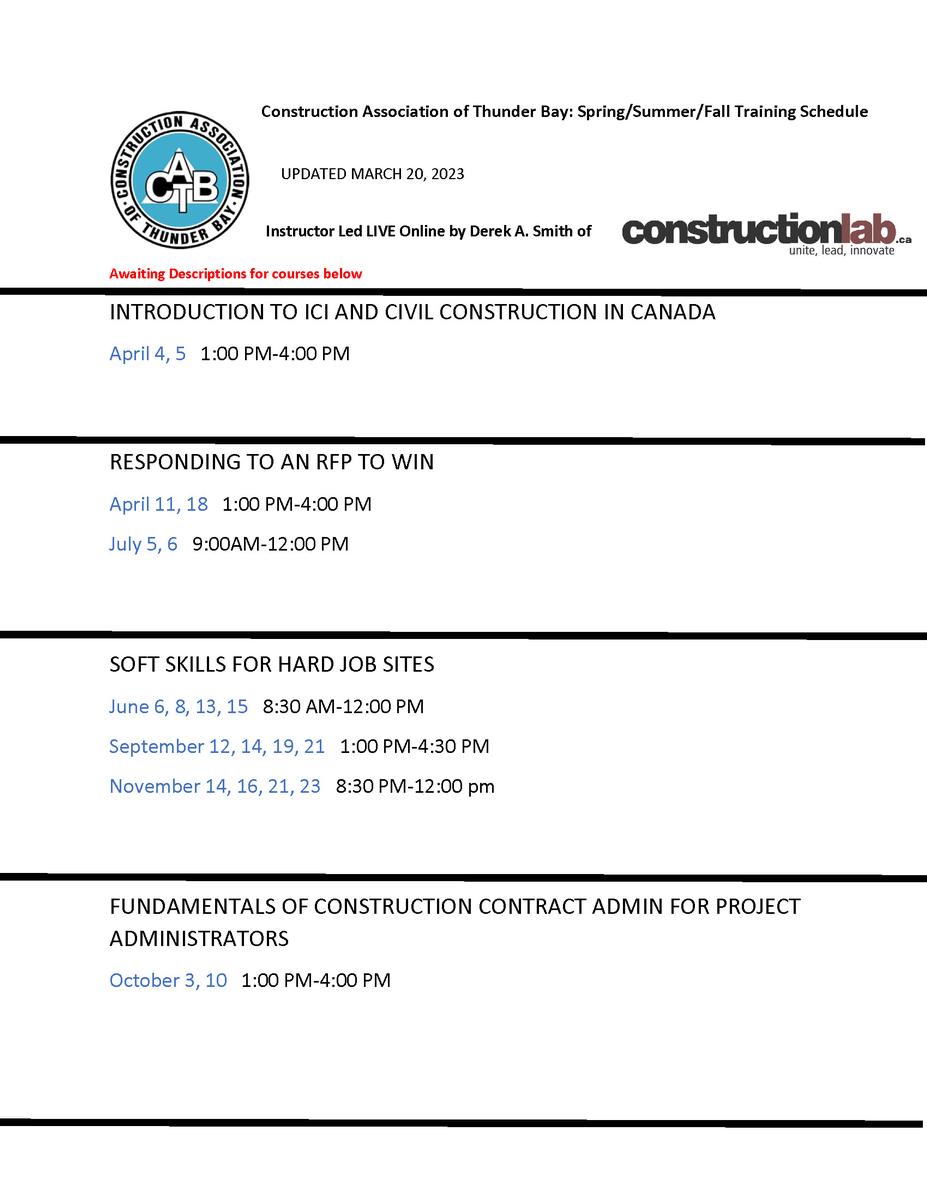 CHECK OUR EVENTS CALENDAR TO VIEW ALL UPCOMING TRAINING COURSES.
---
ABOUT THE INSTRUCTOR: Derek A. Smith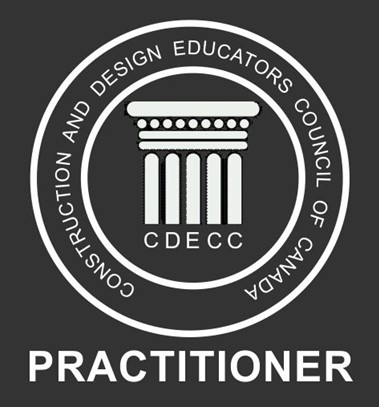 Derek Smith spent 18 years of his career administering CCDC contracts as prime consultant and as an owner representative project team lead. His firm, Constructionlab is one of Canada's leading and fastest growing continuing professional development and workforce development firms. Since 2015, Derek has worked with over 25 employer associations in the construction and design sectors, over 5000 have attended his PD sessions, and since March 2020, he has delivered over 700 hours on-line live to more than 600 construction and design professionals. Derek is an associate of the ADR Institute of Ontario and a registered practitioner with the Construction and Design Educators Council of Canada (CDECC).
Derek Smith
Assoc. ADR Institute of Ontario
Practitioner Certificate 00011 - Construction and Design Educators Council of Canada
Certified - 4 Seasons of Reconciliation - First Nations University of Canada
Constructionlab Ltd.
Suite 302 - 120 Wellington St. SoHo District
London, Ontario N6B 2K6
Direct: 226-236-1870
constructionlab.ca
REGISTER FOR ANY OF THESE TRAINING COURSES THROUGH THE CONSTRUCTION ASSOCIATION OF THUNDER BAY.