CCDC 2020 Documents Content
CCDC 2020 NEW DOCUMENTS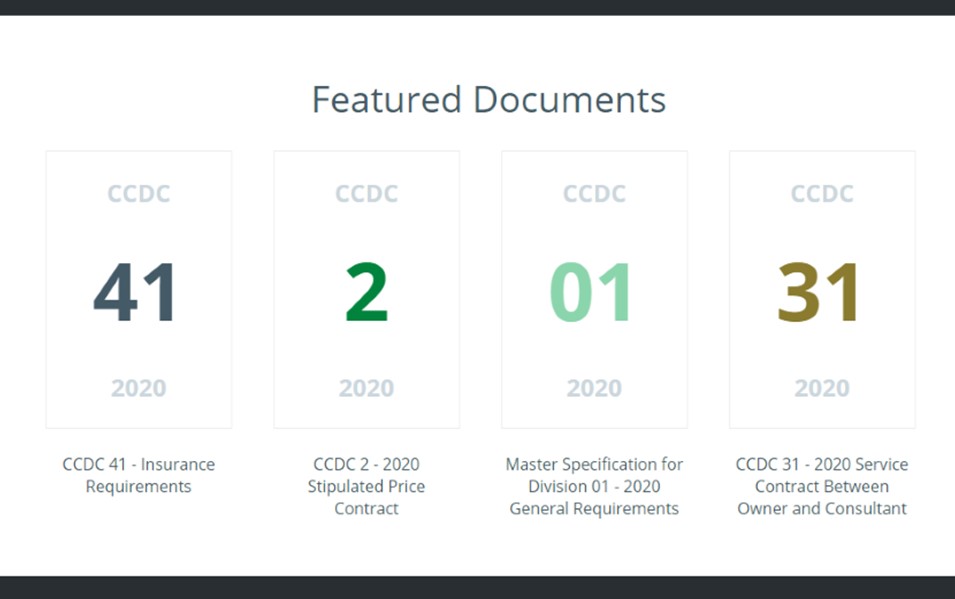 Click titles for quick links to documents
If you have further questions, please contact the CATB office.
---
What is the document?
CCDC 2 – Stipulated Price Contract is the industry standard prime contract between Owner and prime Contractor. This contract establishes a single, pre-determined fixed price, or lump sum, for the project.
The contract outlines the high-level administrative requirements and procedures needed for construction projects, including the role and authority of the consultant, procedures for changes in the work, work by other contractors, insurance requirements, prerequisites for Ready-for-Takeover, dispute resolution procedures, early occupancy by the Owner, and more.
Operating on the basis of a stipulated price, the CCDC 2 assumes monthly progress payments and makes reference to provincial payment legislations where applicable.
The CCDC 2 contains the following sections:
Agreement Between Owner and Contractor
Definitions
General Conditions

General Provisions
Administration of the Contract
Execution of the Work
Allowances
Payment
Changes in the Work
Default Notice
Dispute Resolution
Protection of Persons and Property
Governing Regulations
Insurance
Owner Takeover
Indemnification and Waiver
Users of the CCDC 2 should also acquaint themselves with the CCDC Master Specification for Division 01 'General Requirements' as a companion document.
---
CCDC Division 01 provides a series of editable specification templates covering the project specific requirements. This document was developed based on the CCDC 2 'Stipulated Price Contract', but with proper editing it can easily be used with other contracts .
Spec notes are provided to explain the intended use of each section, assist the editing process, and indicate when coordination is required. Microsoft Word format is available to provide maximum editing flexibility.
CCDC Division 01 is organized according to Master Format section numbers and names:
01 11 00 Summary of Work
01 11 20 Contract Assignment
01 11 22 Assignable Contracts
01 14 00 Work Restrictions
01 21 00 Allowances
01 25 00 Substitution Procedures
01 26 00 Contract Modification Procedures
01 29 00 Payment Procedures
01 31 19 Project Meetings
01 32 00 Construction Progress Documentation
01 33 00 Submittal Procedures
01 35 00 Special Procedures
01 40 00 Quality Requirements
01 51 00 Temporary Utilities
01 52 00 Construction Facilities
01 56 00 Temporary Barriers and Enclosures
01 57 00 Temporary Controls
01 61 00 Common Product Requirements
01 71 00 Examination and Preparation
01 73 00 Execution
01 73 29 Cutting and Patching
01 74 00 Cleaning and Waste Management
01 78 00 Closeout Submittals
01 79 00 Demonstration and Training
01 91 13 General Commissioning Requirements
---
CCDC 31 – Service Contract Between Owner and Consultant is a standard service contract for use between Owner and consulting engineer. Originally adapted from the ACEC 31 at the request of ACEC, the document was updated in line with the existing CCDC principles and terminology, consistent with the CCDC 2.
This contract allows for a variety of types of remuneration, including the use of fixed fees, fees based on the value of the Work, fees based on time-based rates, or any combination therein.
The CCDC 31 clearly outlines the scope of the Consultant's Professional Services with Schedule A, which allows users to select the specific duties of the Consultant for the project.
Also contained within the CCDC 31 are provisions addressing the roles and responsibilities of both parties, insurance requirements, dispute resolution, and more.
The CCDC 31 contains the following sections:
Agreement Between Owner and Consultant
Definitions
General Conditions

General Provisions
Roles and Responsibilities
Executing Professional Services
Payment
Governing Principles
Insurance and Liability
Dispute Resolution

Schedules

Consultant's Scope of Professional Services
Reimbursable Expenses
Time-Based Rates for Personnel Employed by the Consultant